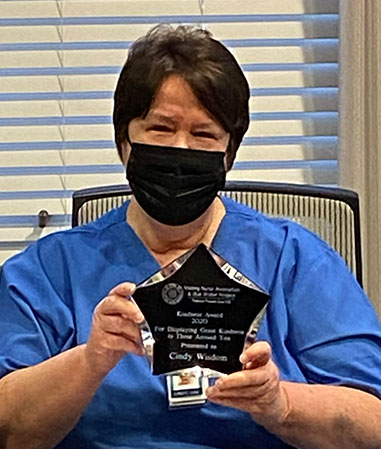 Cindy Wisdom was given the first annual Kindness Award during a special presentation at the Blue Water Hospice Home. The award is given to an employee who is dedicated to other team members, upholds the agency's charter by exhibiting patterns of kindness through friendliness, generosity, consideration, and above all…integrity.
Cindy has been with the agency since 2011. She started as an intern at VNA and was offered a position at the end of the internship. Originally, she began in another department, but found her calling at the Blue Water Hospice Home and has been there for three years.
Several staff members nominated Cindy for the Kindness Award. Here are their comments:
"Cindy is very kind and compassionate with patients and family. She always learns what their 'special thing is'…whether it be holding their hand, singing, or whatever it is…she strives to make every patient feel special. She is the same with staff!"
"Cindy comes in every day with a smile and a positive attitude. She always has ideas to improve patient/family care. She will help out in any means necessary. She often sits with patients/families to offer comfort during a trying time."
"She has often gone from working the day shift t the night shift if it means helping out a fellow staff member. She orchestrated an event for International Chef's Appreciation Day to honor our chefs in the Hospice Home to show our gratitude for their hard work."
"In my years in health care, I have yet to meet someone with as much love and compassion in their heart as Cindy. I cannot think of anyone more deserving."
Congratulations, Cindy Wisdom – first annual Kindness Award winner!