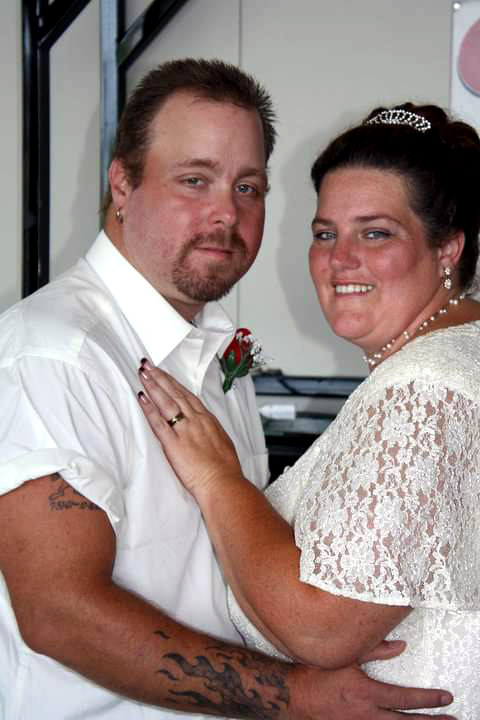 Brian was very young when he had his first heart attack, only 34 years old.
In July 2010, Brian married the love of his life, Vickie. Just five months later, in December, he suffered his first heart attack while attending a college class. Over the next nine years, he would suffer several strokes, mini-strokes and heart attacks.
At a young age, Brian was diagnosed with diabetes. Even with diet and medication, he still had a hard time getting control over the disease. Brian lost his battle at the age of 43, spending his last days at the Blue Water Hospice Home. Typically, when you think of someone in hospice care, you think of an elderly person – this isn't always the case. As with Brian, he suffered from a disease at a young age and needed the additional care provided by the Blue Water Hospice Home.
Brian had benefited from home care with Visiting Nurse Association (VNA) near the end of his life. It was one of his care providers that had mentioned the Blue Water Hospice Home. "We didn't even know this home and type of care existed locally," says Vickie. "We knew we couldn't afford this type of expert care. That's when we were told about the financial assistance available through our local United Way." VNA staff helped Vickie complete the necessary paperwork and they were approved for financial aid for room and board at the hospice home.
Brian's wife, Vickie, is extremely thankful for the care provided by the hospice home. She is just as grateful for United Way of St. Clair County. It was because of our United Way's support, that they were able to place Brian in the hospice home, where he spent his final days surrounded by family and friends while getting the special care he needed.
United Way of St. Clair County works with many local organizations to provide funding for various programs that help to fulfill community needs in areas such as senior housing, shelter, educational programming, and health services. VNA & Blue Water Hospice currently have two funds through United Way – financial assistance for special care and hospice care. Learn more about our partnership at www.uwstclair.org/ImprovingQualityOfLifeThroughHealthAndAdvocacy. Discover their full impact at www.uwstclair.org/ImpactAreas.
Since 1952, Visiting Nurse Association has provided a continuum of care including home health care, palliative care, private duty, and hospice care to the people of St. Clair, Sanilac, Lapeer, and Macomb counties. Visiting Nurse Association and Blue Water Hospice is a non-profit organization that provides high-quality, cost-effective health care to any patient and family member with short-term, long-term, or end-of-life care. Learn more about the services offered by VNA/BWH by visiting www.vnabwh.org.