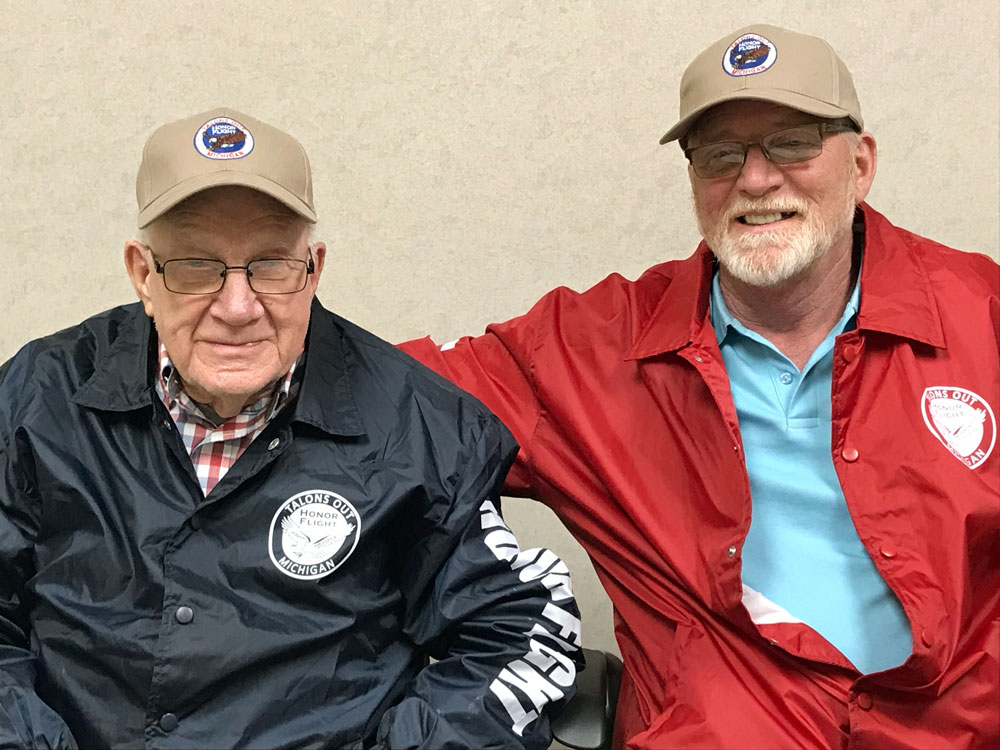 Veteran Gerald "Jerry" Winn, 95, of Port Huron, took on a special mission on April 20, 2019, flying aboard the legendary Honor Flight to Washington, D.C.
The Honor Flight Network takes World War II, Korean War, Vietnam War, or any terminally ill veteran to Washington, D.C. to visit military and national memorials. Jerry's son, Larry, completed an application through Talon's Out, the Michigan division of the national network. There is a wait list, however, special attention is given to WWII vets, due to age.
Each veteran is assigned a guardian, to serve as a "buddy" through the whirlwind day of events. Larry was Jerry's guardian. Together, they saw the changing of the guard, Washington Monument, Lincoln Memorial, Pentagon Memorial, and many more. "It was an unreal, unbelievable day. From the police and fireman lined up, saluting the plane as we left the terminal, to the incredible memorials, and the more than 2,000 people who greeted us upon our return to Michigan. It was a day I'll never forget, and it's because of my dad. When we got back, they took us to the Wings Event Center in Kalamazoo, where an enormous amount of people waited, they shook my dad's hand, saluted him, and thanked him for his service. It was amazing," says Larry.
Jerry's friend, Debbie, said regarding the return she witnessed for Jerry and his comrades-in-arms, "it was emotional, I was in tears". Jerry agreed "it sure was something, I shook a lot of hands…that was an honor".
Service
At the young age of 18, while working in Gary, IN at a steel mill, Jerry joined the Navy. His boss at the time offered to get him a deferment, but Jerry said "nah, I'm in." He served on the USS Apollo, as well as being stationed in Guam, Japan, and later Washington, D.C. During his military service, he was responsible for guns on the ship and later became part of the military police. When asked what he remembers about his time in the Navy, Jerry laughs and says "we ate a lot of pork and beans – breakfast, lunch, and dinner!".
After his service, Jerry joined the crew of a Great Lakes freighter. It was during this time he met the love of his life, Bonnie. For more than 20 years, they fostered 11 adults with specials needs. They went camping and many other activities. Upon his retirement from Ford Motor Company, Jerry and Bonnie moved to Avoca, got an RV and took off to see the United States, making many memories along the way.
Adult Day Program
Larry is happy his dad was able to participate in the Honor Flight while he is still in good health. Several months ago, Jerry was diagnosed with early dementia and referred to the Adult Day Program at Visiting Nurse Association in Port Huron. He looks forward to coming to the program every day. While he loves the outdoors, and sometimes asks Larry if they can go camping, when learning that he'd have to miss a day at the program, he says "nah, I don't want to go camping".
Jerry has become friends with many attendees and staff. He loves playing cards, dancing, and joking with everyone. Program Coordinator Mary-Beth Fleury states "he is quite the character and keeps us laughing. Jerry is a great friend to all in the program."
The Adult Day Program at Visiting Nurse Association provides care to individuals with dementia/Alzheimer's and memory impairments. The program offers several services including B-Fit exercise, music and pet therapy, chaplain support, games, baking, and outings.
To learn more about the Adult Day Program at Visiting Nurse Association, visit vnabwh.com. For more information on the Talon's Out Honor Flight, visit talonsouthonorflight.org.